Happy St Patrick's Day.
I came across an article in Ireland's Independent newspaper entitled, "When the Whole World Dresses up in Green."
A fascinating Irish perspective on celebrations of their own culture, worldwide.
"Some lay claim to being the coldest and oldest, while others can boast about being the weirdest and wackiest. But while many of the world's more 'unique' St Patrick Day celebrations kick off around the globe, there is only one that claims to be the shortest of them all," they say.
While major cities all over the world host parades, like Montreal's annual tradition since 1824, or dye their rivers green, it may be Hot Springs, Arkansas that truly hosts the wackiest event worldwide.
With a website of their own declaring their event as the "First Ever" and "World's Shortest St. Patrick's Day parade," at just 98-feet long, featuring the "World's Largest Leprechaun," it's a parade making headlines in Ireland.
Having interviewed Irish natives around the world, the Independent says, "Like most Irish living away, however, the day does have a tinge of bittersweet about it. 'It makes you a little sad as you miss your family back in Ireland,' says Mary Rose," a participant in the Hot Springs Arkansas event.
Whether Irish by blood or Irish at heart, we love St. Patrick's Day.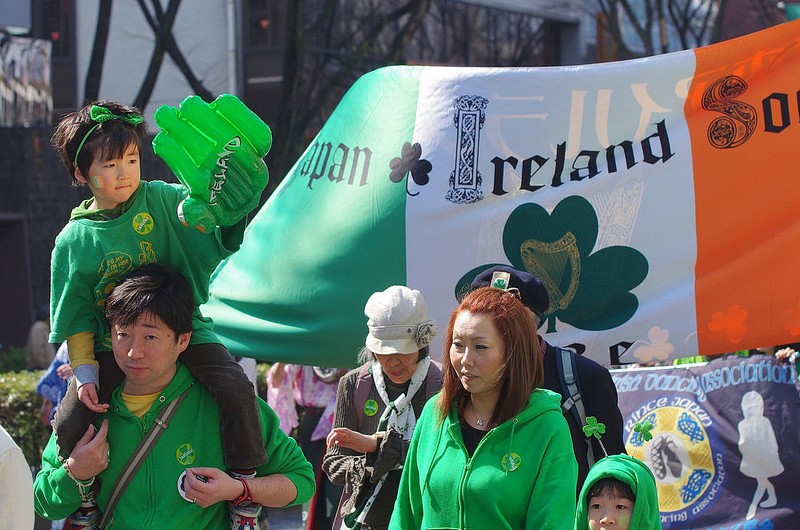 A jovial gathering of friends and family to celebrate a people and a country filled with life and beauty and fun.
Yet the origins of this day have a much deeper meaning.
The man behind the day wasn't even Irish, much like many who celebrate today.
And in his own words, his first exposure to Ireland wasn't filled with life, beauty, and fun.
Born in Roman Britain, Patrick, as a child, was captured by Irish pirates and taken to Ireland as a slave to herd and tend sheep.
He wrote of the years of capture in Confessions, "The love of God and his fear grew in me more and more, as did the faith, and my soul was rosed, so that, in a single day, I have said as many as a hundred prayers and in the night, nearly the same. I prayed in the woods and on the mountain, even before dawn. I felt no hurt from the snow or ice or rain."
At 20, Patrick tells of a dream where God told him to leave Ireland by way of the coast, where he was able to escape with British sailors and return to the land of his birth to be reunited with family.
Only home a few years, Patrick writes of another dream, another vision… another calling. One not of escape but return.
A calling that would be difficult for most.
He was to return to the land of his capture, Ireland.
It was, in his words, "The voice of the Irish," calling to him in a God-given dream.
After some years of preparation for the priesthood, Patrick returned to Slane, Ireland on March 25, 433.
The rest, we know.
For 40 years, St Patrick would walk among the Irish, and bring a new hope for a new life and a new Ireland. Ireland was no longer the land of his capture, but the land of his calling.
Catholic Online describes St Patrick as "a humble, pious, gentle man, whose love and total devotion to and trust in God should be a shining example to each of us. So complete was his trust in God, and of the importance of his mission, he feared nothing -not even death."
And in his own words, St. Patrick wrote in his poem of faith,
The Breastplate
"Christ be within me, Christ behind me,
Christ before me, Christ beside me,
Christ to win me, Christ to comfort and restore me,
Christ beneath me, Christ above me,
Christ inquired, Christ in danger,
Christ in hearts of all that love me,
Christ in mouth of friend and stranger."
In a world filled with division, animosity, finger-pointing, and harboring of ill-will, St. Patrick, by his very life, serves today as a reminder of love, restoration, hope, and renewal.
He did what he felt God called him to do.
Even to return to a place of enslavement. Obeying God, fearing nothing, not even death. Finding instead a people he would forgive, and even love, in Christ's name.
And today we celebrate today, in his memory. A day filled with life, beauty, and fun.
A beautiful land and a beautiful people.
My prayer for you this and every day is:
An Irish Prayer
May God give you…
For every storm, a rainbow,
For every tear, a smile,
For every care, a promise,
And a blessing in each trial.
For every problem life sends,
A faithful friend to share,
For every sigh, a sweet song,
And an answer for each prayer.
Next time you have a dream… listen carefully.
You never know where it will take you!
Hug your loved ones' extra tight and–
Have a beautiful weekend – celebrate the beauty of the green!
Beannacht leat go bhfeicfidh mé aris thú.
(Blessings until we meet again)
Stephanie
:: What are you making for St Patrick's Day? Get some ideas in the St. Patrick's Day section of 31Daily (under the "Holidays" tab).
Favorite