Traditional Brown Irish Soda Bread is a classic quick bread that has stood the test of time. Truly, a lot of time. More than 180 years of time.
A classic bread I could never celebrate St. Patrick's Day without.
And while food trends come and go and pallets change, one should always save room for the classic traditions.
"I think for a while Irish people were seduced by the lushness of white yeast breads," says Emer Fallon, a County Kerry Irish chef, "but there's been a huge swing back to our own native brown soda bread."
For after all, in some parts of the world, "long walks end in buttered brown bread and huge mugs of tea."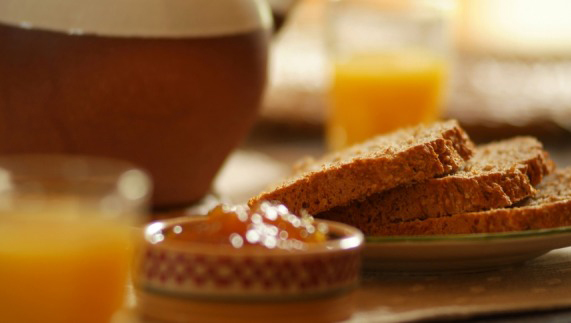 And whether you're celebrating St. Patrick's Day or simply baking bread for a family meal, a traditional brown Irish soda bread is always a perfect accompaniment.
The first recorded recipe of Soda Bread came in November of 1836 from the London Farmer's Magazine, referencing an article found in County Down's Newry Telegraph of the same. It read:
A correspondent of the Newry Telegraph gives the following receipt for making "soda bread," stating that "there is no bread to be had equal to it for invigorating the body, promoting digestion, strengthening the stomach, and improving the state of the bowels."
He says, "put a pound and a half of good wheaten meal into a large bowl, mix with it two teaspoonfuls of finely-powdered salt, then take a large teaspoonful of super-carbonate of soda,% dissolve it in half a teacupful of cold water, and add it to the meal; rub up all intimately together, then pour into the bowl as much very sour buttermilk as will make the whole into soft dough (it should be as soft as could possibly be handled, and the softer the better,) form it into a cake of about an inch thickness, and put it into a flat Dutch oven or frying-pan, with some metallic cover, such as an oven-lid or griddle, apply a moderate heat underneath for twenty minutes, then lay some clear live coals upon the lid, and keep it so for half an hour longer (the under heat being allowed to fall off gradually for the last fifteen minutes,) taking off the cover occasionally to see that it does not burn.
This is a rustically simple yet authentic recipe for Brown Irish Soda Bread I like to bake in a 10-inch cast iron skillet.
Traditional Brown Irish Soda Bread
Ingredients:
2 cups stone ground whole wheat flour
1 3/4 cup all-purpose flour
1 3/4 cup buttermilk
1 tsp baking soda
1 tsp salt
Preparation:
Butter a 10-inch cast iron skillet and preheat oven to 375 degrees.
Combine dry ingredients and then add the buttermilk all at once. Stir until just combined. This will be a soft and sticky dough. Flour your hands and shape into a dome-shaped loaf and place in skillet.
Before slipping the bread into a preheated oven, be sure to cut a cross shape, about 1/2-inch deep, with a sharp knife on the top of the loaf. St. Patrick himself was known to make this bread and while there are differing symbolisms attached to the sign of that cross, I choose to believe it symbolic of St. Patrick's faith.
Bake for about 40-45 minutes or until the cross has widened and the bread is golden brown. Transfer to a rack to cool completely. Slice or wrap the loaf in a moist towel until ready to serve. Allow the loaf to completely cool before slicing.
Serve with quality butter and homemade preserves if you have them!
Pin It